Cameras
Security Cameras for Home or Business - CCTV, Alarms, and Intercom Systems
As a leading alarm company in Greater City of Peterborough and surrounding areas Watchguard Security can offer customers a full range of electronic security equipment including a variety of business or home security cameras: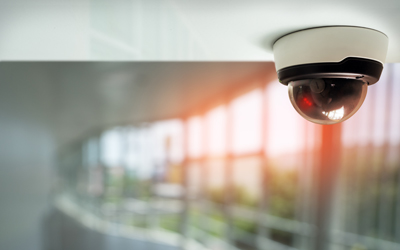 Closed Circuit TV (CCTV) systems
Remote Camera Viewing
Access control systems
Intercom systems
Key control systems
Regardless of the size of your home or business property Watchguard Security has the security camera equipment and technical support to meet your security needs. We have a proven track record for over 30 years installing best security equipment projects of varied scope on time and on budget and providing a technical team that is available 24/7/365 to offer support.
Security Cameras / CCTV Systems
Watchguard Security is focused on designing and installing Security Cameras / CCTV systems that will enhance the security of your home or business premises -- specializing in leading edge multi-camera digital systems.
Watchguard Security deals with a strong and diverse security equipment vendor community -- this allows us the flexibility to customize security cameras systems to meet your needs while offering excellent value.
HD-TVI 2MP Intense IR Dome Camera, 3.6mm Fixed Lens, Dark Gray Housing
Category: HD-TVI
3.6mm fixed lens
Full HD resolution over coax (HD-TVI)
Supports up to Full HD 1080p @ 30fps
True WDR operation
Intense IR function – no saturation, IR intensity adapts to subject to provide vivid image
True day/night operation – mechanical IR cut filter
Heater circuitry and anti-moisture glass reduce fog or condensation under any weather condition
3-axis for wall and ceiling mounting
Chameleon Cover™: snaps on and can be painted to match any décor!
Full OSD operation through on-board control and UTC (up the coax)
12VDC & 24VAC dual voltage operation
Vandal / tamper resistant
IP67 compliant, weather resistant
One of the options you may choose from.